What Makes Shutters The Best Window Treatment For French Doors In Minneapolis, MN
French doors ,better known as patio doors, are hinged with glass panels. They might be a doorway to the balcony, deck, or yard. And what makes French doors so alluring is the brightness they lend your house.
The same glass panels that make French doors so beautiful pose a dilemma for Minneapolis homeowners. How do you cover it with a beautiful window treatment without sacrificing how the door operates? Which window treatment lets you control how much light you let in while being energy efficient? What is the best window treatment for French doors in the Minneapolis area?
Things To Look For In A Window Treatment For French Doors
Privacy & Light Control
A French door window treatment allows you to adjust for more or less light easily. If you want no light at all, the French door window treatment should be built from material that blocks almost all the light. If you only want light from the top half of the door, the window treatment should be installed in a way that does just that. And the best window treatment would have to cover the French door entirely so that nosy neighbors (and uninvited drones) can't look in.
Plantation shutters are built from hardwood (or a synthetic polymer) that effectively blocks the light coming through the glass. And a tilt rod allows you to tilt the louvers for as much light - and view - as you need.
Energy Efficiency
The French door's glass are not designed to completely insulate against the weather Minneapolis experiences. This means that the best window treatment would minimize heat transfer and airflow to keep the room's temperature pleasant. And your HVAC system doesn't have to work any harder.
The most energy efficient window treatment for French doors is Polywood® plantation shutters. Polywood shutters are made with exclusive weatherstripping. When closed properly, these plantation shutters minimize heat transfer by up to 45% and block up to 30 degrees of airflow from the glass102. Learn more about how Polywood shutters insulate 1600% better than aluminum blinds.
Stability
The window treatment should move with the French door as you're opening the door. Otherwise, it could rattle against the glass or sway if it's not anchored completely to the door's frame or if it's not mounted correctly.
Shutters for French doors are permanently fixed to the door frame. So unlike shades and blinds, they don't sway or rattle when the door is opened. What's more, they're custom built to accentuate the French door's shape and the scenery outside.
Durability
The window treatment should be made from quality material that is durable to stand up to all the times you swing the French doors open. And the best French door window treatment should handle years of everyday adjustments and use without showing signs of wear.
Plantation shutters from Sunburst are constructed from premium material, which means your French door shutters will be beautiful and stay functional for decades.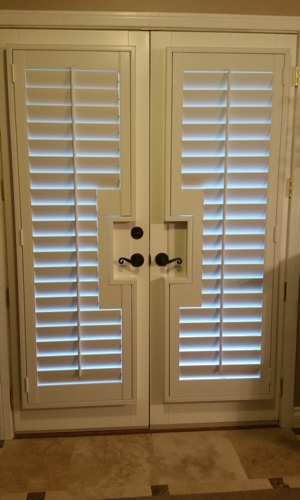 Learn More About Shutters For French Doors In Minneapolis, MN
Plantation shutters for French doors are available in
Ovation®
and
Polywood
. They can be custom manufactured to allow for the door handle with a square or circle handle cutout.
Call us at
952-856-8130
or fill out the form below to learn more about
French door shutters in Minneapolis
. And if you are looking for the same type of shutters for your
sidelights
or
patio door
, we have those as well.