What Are The Top Window Treatments For Over The Kitchen Sink In Minneapolis?
If the time has come to purchase window treatments, don't forget about the kitchen -- even if the only window is the one over the sink. If you harbor reservations about splatters of water and food disfiguring a window treatment over the kitchen sink in your Minneapolis home, use plantation shutters. These popular options bring style to all areas but are noted for withstanding the often wet and messy kitchen environment.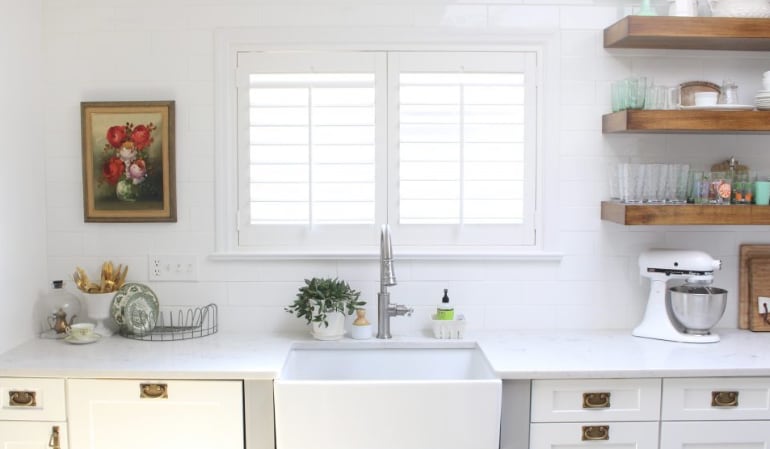 Polywood Plantation Shutters Elevate All Minneapolis Kitchens
Window treatments over your kitchen sink in Minneapolis need to be practical and long-lasting. But you don't have to abandon beauty when you hang popular, faux-wood plantation shutters.
This sought-after product melds effortlessly with every kitchen design. They can be found in various tones of white that coordinate with kitchen appliances and finishes, and their solid panels of adjustable louvers offer a counterpoint to the the flat elements found in your kitchen. Interior shutters add understated elegance to both luxury and minimalist kitchens and everything in between.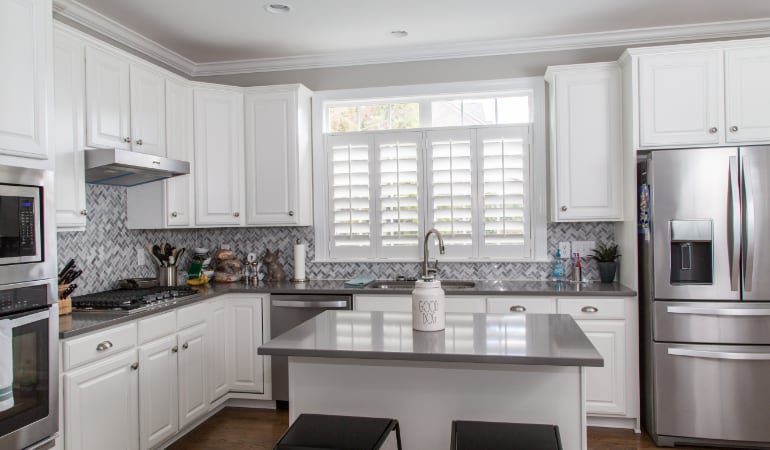 Polywood Shutters Stand Up To Harsh Conditions
How often do you see water droplets on your kitchen window when you're boiling water or washing dishes? That excess liquid attaches to window treatments over your Minneapolis kitchen sink, where it will deteriorate fabric shades or curtains over time.
You will find that interior shutters are a more durable option. The faux-wood material and tough outer coat resist damage from a moist and steamy environment. These popular window treatments are totally watertight. Polywood shutters will not be yellow, warp, or chip due to the levels of moisture in your kitchen.
Natural sunlight and outdoor conditions will have no influence over your Polywood shutters. On the window in your kitchen, these plantation shutters must hold up against old air and penetrating UV rays. Your shutters will not deteriorate due to interior warmth or outside cold, nor will they suffer from fading due to high levels of sunshine.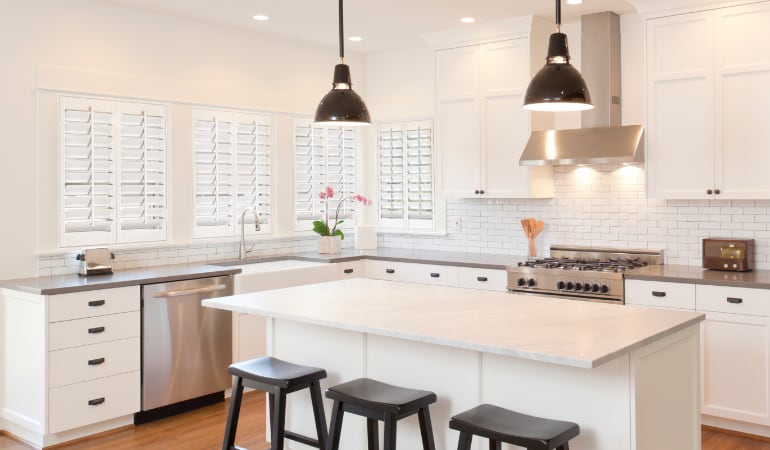 Polywood Plantation Shutters Welcome Light Into Your Kitchen
Lighting is important in your Minneapolis kitchen. There's no reason to injure yourself because the lighting is too dim! Plantation shutters give you the right amount of additional light and are a cinch to adjust. Simply swing the panels outward or move the louvers with the easy-to-use tilt rod. You don't have to worry about tangled cords or an inconvenient pull bar that is hard to grab on to when you need more illumination.
When looking for a flood of sunlight, swing the panels open wide. If you have too much sun, move the panels back in place and move the tilt bar for softer light. You can also shift the slats to redirect glare off of shiny surfaces in your kitchen. If you don't like strangers seeing into your home after dark, shut the louvers tight for total privacy.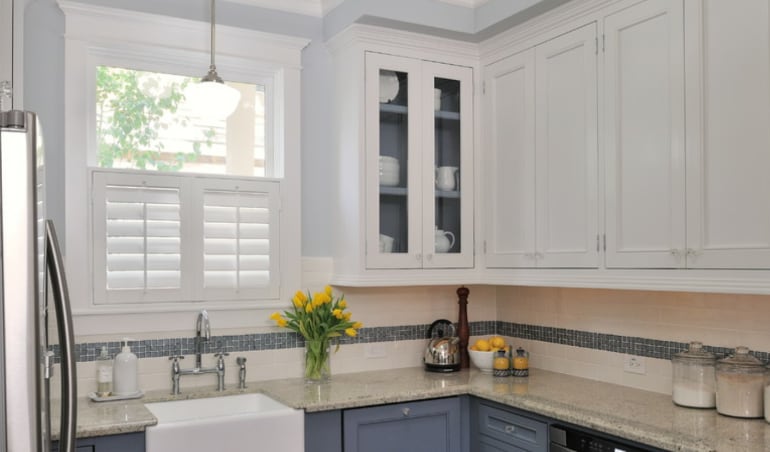 Faux Wood Shutters Clean Up Easily
Kitchen surfaces collect food particles and grease stains. Any window treatment over your Minneapolis kitchen sink should offer ease of cleaning. When taking this into consideration Polywood window treatments are excellent options for kitchens. The sturdy, smooth construction doesn't stain or hold odors like cloth alternatives. They just need a quick dusting or wipe with your lightly dampened rag, and they're clean again.
You'll never have to squander precious time gently reaching your duster through the slats as you would with traditional metal blinds. The well-made louvers are durable, and you can choose wide louvers for your custom shutters that leave large spaces for your hand and cleaning cloth.
Purchase The Best Window Treatments For Over Your Kitchen Sink In Minneapolis At Sunburst Shutters Minneapolis
Sunburst Shutters Minneapolis has the right window treatment for any window -- and that includes the windows in your kitchen. Talk to our consultants about what you envision for your windows, and we'll be glad to help upgrade your kitchen. Contact a friendly representative at 952-856-8130 or submit the form on this page to request your no-obligation, on-site appointment.