What Are The Ideal Sidelight Window Treatments In Minneapolis?
Sidelight windows, the slim windows that frame your main entrance, look charming in your entryway and can allow natural light into a dim foyer. But they can also let in glare or compromise privacy. And not all window treatment fits these slim windows. The majority people attempt to find the premiere sidelight window treatments in Minneapolis to fix these woes. Fortunately, custom Polywood® shutters are the answer to any sidelight window problems.
Custom Interior Shutters Fit Your Sidelights' Unusual Size
The unique look of your sidelight windows bears an unfortunate downside - most window treatments can't fit in that thin shape.. Standard blinds may leave open spots or cross over the window frame. Cloth curtains appear excessive on such small windows. And custom window shades that usually seem stylish look tacky when shaped to fit sidelights.
Polywood® shutters, however, can be hand-made to frame your sidelights perfectly. These custom-made louvered shutters mesh with the shape of your windows for a clean presence. You can also further tweak them to suit your home's sidelights and entryway. They are available in many frame styles to coordinate with your door. If your home has super tall sidelights, place divider rails or split tilt rods to divide your shutters into segments that move individually. Or got with classic or smaller louvers for a timeless finish for your skinny sidelights.
Interior Shutters Allow For Extra Privacy Than Other Sidelight Window Treatments In Minneapolis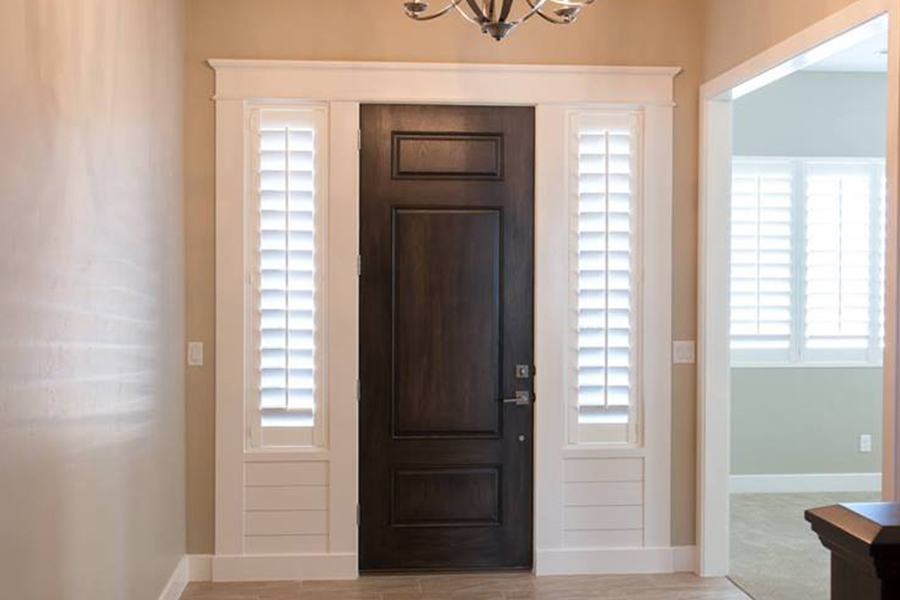 Though small, your sidelight windows could create a big concern with privacy.. Anyone who nears your door, from mail people to curious neighbors, can peek right in.
Polywood shutters provide total privacy for these windows.
Their strong faux wood is 100% impenetrable, and their perfect fit guarantees no crevasses around the edges when you seal them completely.
Solid Polywood shutters also will not blow in the wind like blinds and curtains in a gust should you experience drafts from your door. Interior shutters are also the most durable window treatments. Around flying toys or rowdy pets, you can trust that your shutters will remain undamaged..
Interior Shutters Let You Control Light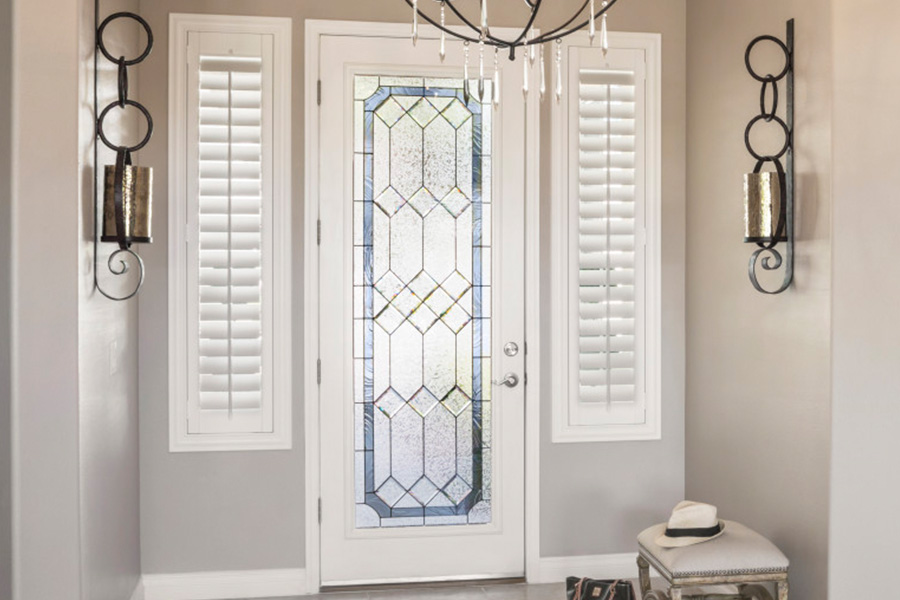 The sun's rays in your entryway can bring joy to your interior and make it more inviting to friends when they arrive. But if it gets excessively bright, it might blind your guests as they come through the door. And if your entryway faces east or west, your foyer may reside in the shadows for a big chunk of the day and receive too much direct sunlight and heat the rest of the day.
Polywood shutters are the premiere sidelight window treatments in Minneapolis for balancing light in your foyer. If your entryway seems too dark, you can move the shutter panels to let sunlight stream in. If the sun comes in too strong, shut the panel and partially spread the louvers for the perfect amount of light.
If you want to shut out nearly all of the sunlight and reduce the temperature of your Minneapolis home, your Polywood shutters are uniquely built to close tightly against sunlight and air current. You'll have only a slight glow in the place that the louvers close, and the patented weatherstripping on your shutters insulates your rooms from outside air and temperature transfer up to 70% more proficiently than other window treatments.
Sunburst Shutters Minneapolis Has The Top-Of-The-Line Sidelight Window Treatments In Minneapolis
Minneapolis makes installing sidelight window treatments a breeze for Minneapolis homeowners. We're ready to answer all of your questions about stylish Polywood shutters. Reach us at 952-856-8130 today or complete the form below to schedule a free in-home consultation.