Great Nursery Window Treatment Ideas In Minneapolis
As an expecting parent in Minneapolis, you want to get every detail of your little one's nursery just right -- including the window treatments. But before you pick out the right window treatment, don't forget that versatility and safety are essential. Babies are able to yank down drapes or get caught in the pull cords of blinds. These coverings won't block light and unwanted air flow for good sleep either. Alternatively, use safe, efficient plantation shutters or cellular shades as window treatments for your nursery in Minneapolis.
Louvered Shutters Will Keep Your Nursery Safe, Cozy, And Stylish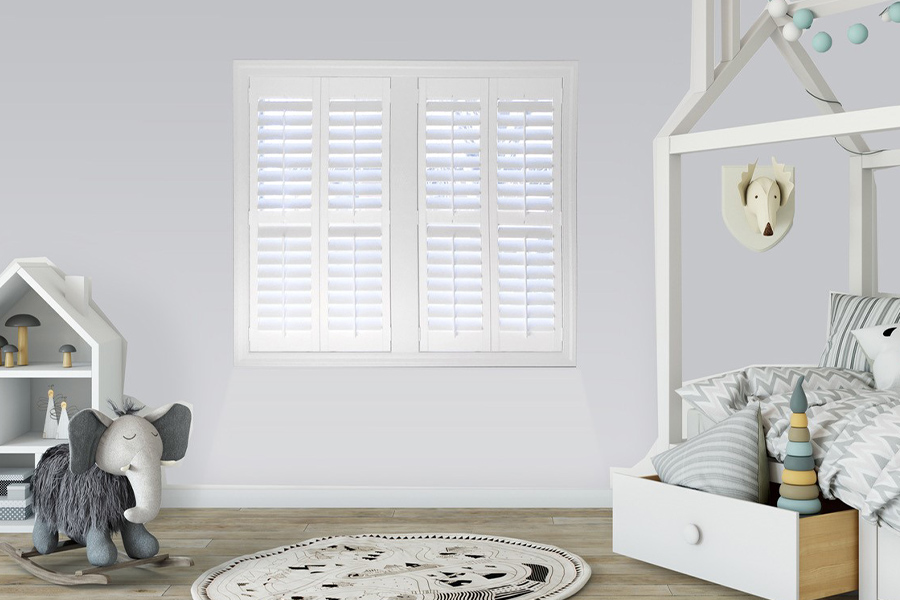 Plantation shutters may not be first on your list for nursery window treatment ideas in Minneapolis, but they ought to be! These classic window treatments look stunning in any space. Their solid panels offer an interesting contrast to the soft furnishings typically found in a child's nursery. You could utilize
white faux wood Polywood® shutters
in nurseries with bright or more delicate colors. Wood-stained shutters might work better if your nursery consists of nature-themed elements or you want to harmonize with the present wood trim. And whenever you change the design as your child gets bigger, your shutters will still be appealing with the area's altered appearance.
Plantation shutters utilize a unique construction that makes them perfect for kids' quarters. In lieu of installing drapery or pull cords for a loved one to grasp on or get tangled in, plantation shutters feature sturdy panels with movable louvers incorporated into a frame around the window. They even wipe off with ease when they inevitably get smudges from little fingers.
Shutter slats and panels give you several ways for managing sunlight and privacy in your child's space as well. Swing back the panels for a sunny play area or fasten them and rotate the louvers out to let in a bit of sunlight and redirect it off the place where your little one spends time. Then secure the panels and slats to block almost all light for bedtime and naps.
Closed plantation shutters keep out cool breezes too. Air isn't able to go through real wood and faux wood like it can through fabric window treatments. And premium Ovation® and Polywood shutters use industry leading craftsmanship to greatly reduce openings where air slips through. Polywood shutters also have the best in weather protection that causes them to be the most energy-efficient nursery window treatments in Minneapolis and makes certain your space is always at a consistent temperature for a peaceful rest.
Cellular Shades Lend Efficiency and Color To Nursery Windows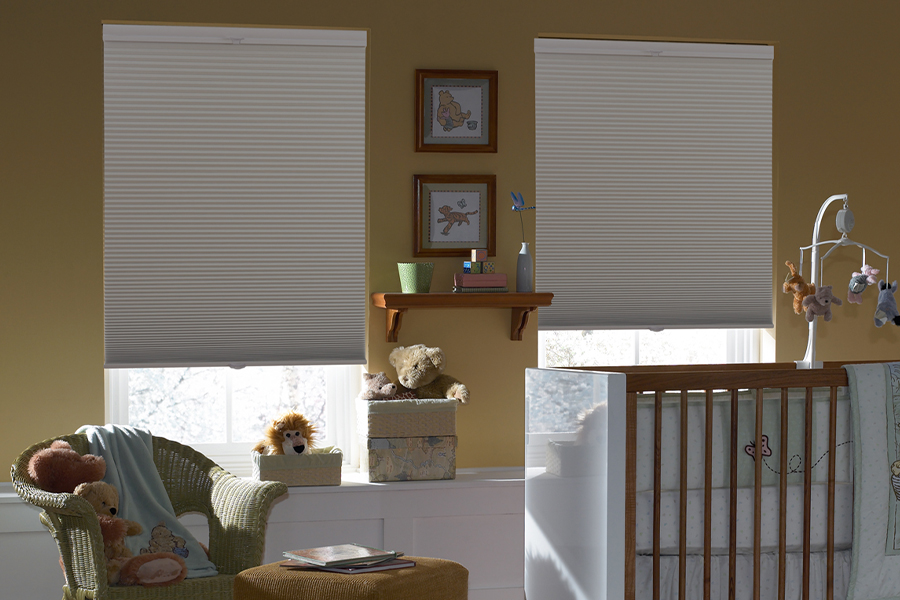 If you prefer a softer material for your nursery window treatments,
choose cellular shades.
These window coverings come in various materials, colors, and patterns for you to pick from. You'll even find styles like top-down/bottom-up shades that offer additional versatility with outside light and privacy or cordless shades that a child won't get tangled in.
The leading asset of cellular shades is their ability to save energy. Their unique design consists of small compartments that confine air entering through your windows before it enters the nursery. They help keep the room at a comfortable temperature and utility bills within reason.
Would You Like Additional Nursery Window Treatment Ideas In Minneapolis? Speak With Sunburst
No matter if you need nursery window treatment ideas in Minneapolis or window treatments for a different room of the house, Sunburst Shutters Minneapolis is here to help. We supply various window fashions that make your home more beautiful and comfy. Reach out to 952-856-8130 or complete the form on this page to request a no-cost on-location demonstration and explore amazing window treatments in Minneapolis.