Stylize Your Shutters with Options like Craftsman Shutter Frames in Minneapolis
It doesn't happen often, but we've heard a Minneapolis homeowner or two claim that "all shutters look the same." Let's set the record straight – those claims couldn't be further from the truth.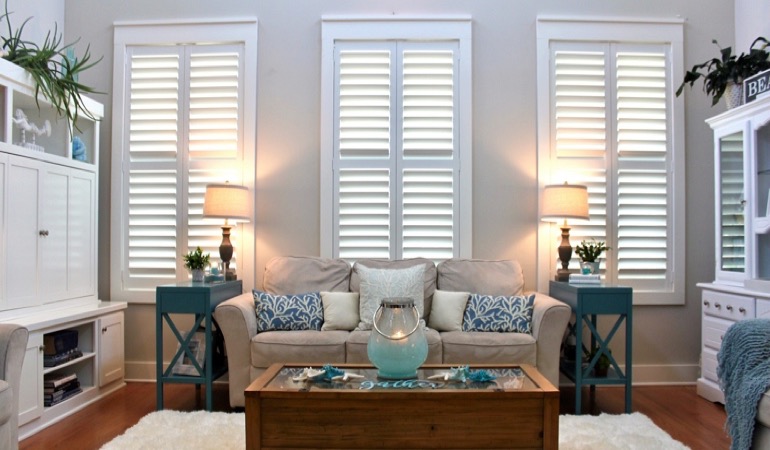 Many people don't know the number of options you have when it comes to shopping for plantation shutters in Minneapolis, and the huge impact those options may have. Possibly chief among those options is the frame style you choose for your shutters.
Minneapolis Custom Shutter Frames
Your options for shutter frames will depend on:
How your window opens and shuts.

The depth of the window jamb.

Whether you'll have an outside mount or inside mount.

Your own personal style.
Some of our shutter frames are only available in certain materials, such as our Polywood® faux wood shutters, some are only available with an inside or outside mount of a window, and some might just look better than others with your existing trim, like our Craftsman frame shutters, great for Craftsman style homes and only offered by Sunburst.
Let's take a look at some of the most common shutter frames we recommend to Minneapolis homeowners.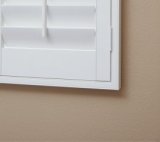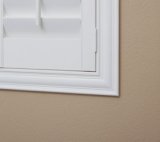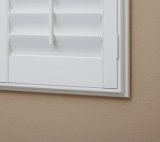 Craftsman Frame Shutters - You can't watch House Hunters for more than 5 minutes without seeing Craftsman design. This Sunburst-exclusive frame was designed especially for Craftsman style homes and homes with similar aesthetics. A Craftsman frame offers a clean and simple look, so no part of your home looks gaudy compared to the rest. If echoing some historic home style is what you want, this is the frame for you. Currently offered in Polywood and reclaimed wood shutters only.
L-Frame Shutters - An L-frame is possibly the least complex and most functional frame style. They have a smooth, modern look, and are typically the easiest to work around if you have a unique window shape. The L-frame can work as either an inside or outside mount, if you'd like to keep your existing window trim, and is available in Polywood® faux wood shutters, Ovation® hardwood shutters, reclaimed wood shutters and Studio™ shutters.
Z-Frame Shutters - Z-frames are a common choice because they offer a stylized, classy look on your window, not unlike bass or crown molding. This frame is called a "Z-frame" because of the shape of its exterior, which is installed on an inside mount of a window jamb, but hugs the jamb and extends to the outside making a "Z" shape. That wraparound shape means it can substitute for window trim if you don't have any existing trim. Z-frames are available in every single one of our shutters.
Decorative Frame Shutters - A decorative frame has a lot going on in the style department. With lots of texture and an eye-catching shape, this frame is best used when you have no existing window trim, or if you want to cover your existing trim. Decorative frames are offered in Ovation and Polywood shutters only.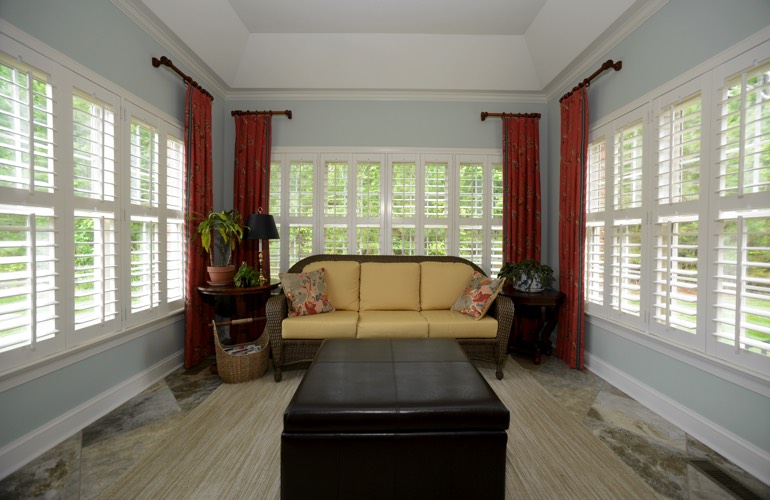 Beyond the type of frame, there are still a lot of options for you to choose from. All of our frames can have a sill piece attachment added, in addition to other add-ons your installer can tell you about. To learn more about the custom options for your shutters, give your local Minneapolis shutter experts a call at
952-856-8130
today.