Minneapolis Window Treatment Ideas For Doors with Half Glass, Full Glass, And Unique Windows
A door with glass panes adds an open feel to your interior and lets in natural light. But have you considered if the entrance is constantly blasted by the sun or lets strangers have a clear view into your Minneapolis home? Interior shutters, transitional shades, and Roman shades all provide appeal and protection when you need Minneapolis window treatments for a door with half glass, total glass, or specialty window types.
Install Interior Shutters For Eye-Catching Minneapolis Window Treatments On Doors With Half Glass, Total Glass, And Round Windows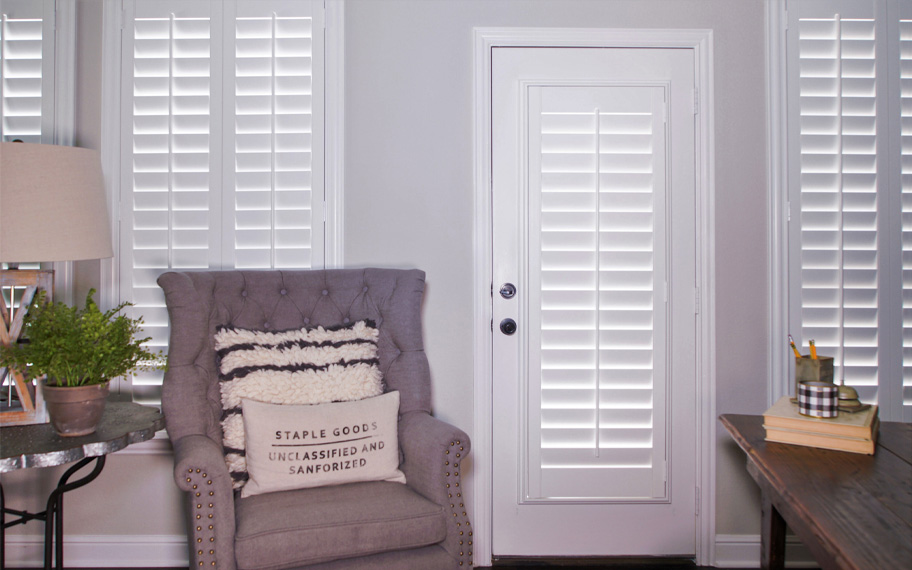 Your entrance is one of the first and last things visitors will take note of at your Minneapolis house, so your window covering should make a lasting impression. Plantation shutters look stunning on doors. This product lends an appealing design element to your entryway, and their louvers let you manage the light and privacy levels. Interior shutters are also the perfect Minneapolis window treatments for doors with half glass, full glass, and specialty windows because they can be fabricated for windows of varying shapes and sizes. Made-to-order shutters will precisely cover an [[arched or circular window's shape]67] when other window treatments can't.
Faux-wood shutters are the most resilient window treatments you can choose for a door. They stand up to knocks from kids and pets coming through the entry, and dirty hand or paw prints wash away with little effort. These tough window treatments won't warp or split because of a cold breeze or warm, humid air entering past your door. And this product doesn't smack or swing against the door like traditional metal blinds would. The bottom line is they stay looking beautiful for longer..
Use Roman Shades To Manage The Sun's Rays With Panache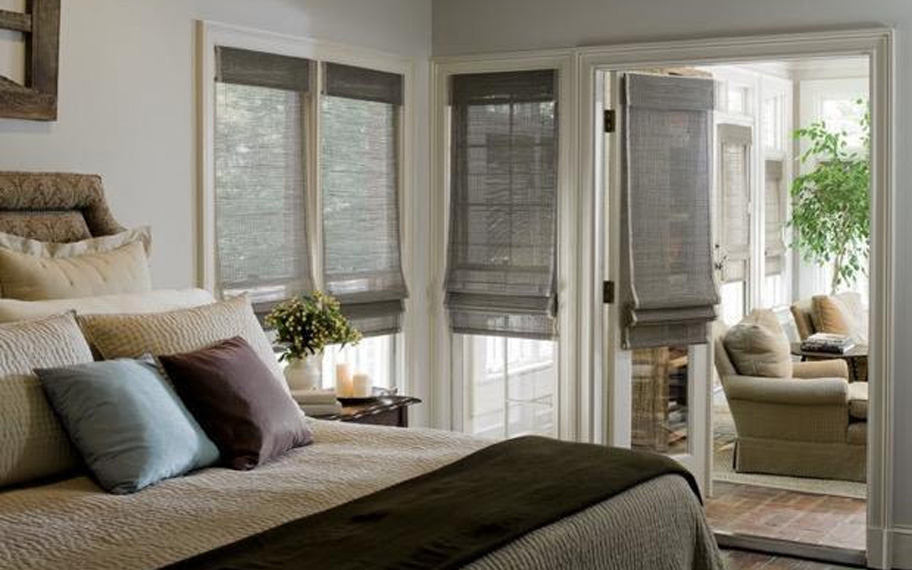 Doors constructed with glass inserts add to your decor but can become problematic if they allow glare from the sun. Distinctive Roman shades are terrific Minneapolis window treatments for doors with half glass or full glass as they are available in various levels of opacity. When your door is positioned east or west, you can use a less transparent option to minimize the intrusion of direct sun. If large trees or a porch roof shade your door, a more transparent shade will welcome in softened light. You can also consider Roman shades that open at the top and bottom for a nice injection of light while still maintaining your privacy.
Roman shades offer the added benefit of coming in many colors and patterns to coordinate with your Minneapolis home's unique design. Shades with eye-catching patterns or colors enliven what would otherwise be a basic glass door. If your door has colored or beveled glass, choose a shade with one color so you can avoid using a pattern that clashes with the glass design.
Install Zebra Shades For Complete Control of Sunlight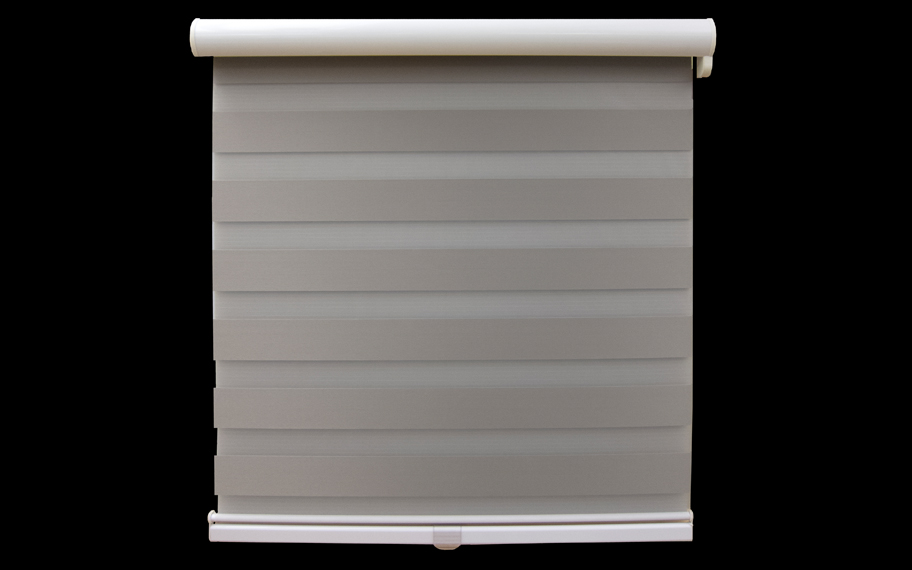 Transitional, or otherwise referred to as zebra shades, offer the benefit of total privacy with the ability to let in light. They are made from thinly cut material and stay close to the door. These products are a twist on roller shades as they utilize an uninterrupted loop of fabric that alternates with solid and sheer sections. The front panel of fabric can line up with the back panel so you are able to see through the transparent material and bring in filtered sunshine or line up the solid stripes over the sheer to impede light and any view from the exterior.
Transitional shades are available in a wide selection of colors, patterns, and fabrics. You can also choose how to move your zebra shades. When affixing to a door, your best bet is probably cordless products since cords will get tangled or caught around the door. For the best in modern function, you may use an electric-powered option that opens and closes with the simple touch of a controller if you desire a change in the levels of outdoor light and privacy.
Enhance Your Door With Shades And Shutters From Sunburst Shutters Minneapolis
At Sunburst Shutters Minneapolis, we carry only quality crafted shades and shutters for your glass doors and every other window in your Minneapolis home. Simply tell our knowledgeable staff the basics of your project, and we'll help you explore the right choices for all of your needs. To get started with a complimentary on-site appointment, dial 952-856-8130 or fill out the ensuing form.