Leading Living Room Window Treatments In Minneapolis
A great deal of Minneapolis homeowners use their living rooms for formal entertaining, others for family play and relaxation. No matter your lifestyle preferences, the best window coverings will create an area that is more comfortable and inviting. Distinctive coverings like Polywood® shutters or window shades bring another level of style while helping eliminate drafts and glare.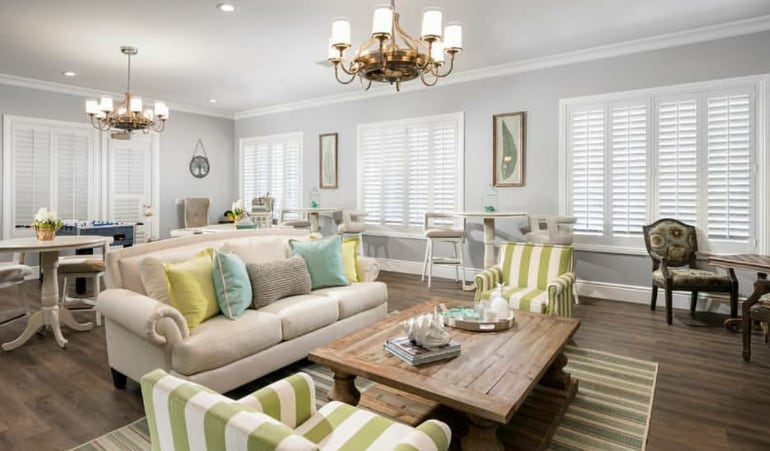 Plantation Shutters Keep Your Space Comfortable
For most Minneapolis residents, the living room serves as a multipurpose room where they play games, entertain friends, and relax after a long day. Popular plantation shutters are a smart choice for your living room. Both faux wood Polywood® shutters and 100% wood shutters are durable and low maintenance for families with children and animals but with plenty of style to make a lasting impression. The wide louvers are impressive and need only a quick wipe to get rid of messy fingerprints or dust before you entertain guests.
Those louvers also let you control natural light in your living room. When you don't want complete daylight, shut the shutters and tilt the louvers to direct glare out of people's eyes or off the TV screen. Or shut them completely during peak sunlight hours to keep your space comfortable.
If your home is like others, you have a picture window, bay window, or other large windows in the living room. These let in the hot sun and cooling drafts. While stunning, they will let in the sun's heat and windy drafts. They add appeal but also allow heat and drafts that run up your energy bill and impact the comfort of your room. When looking for the most efficient living room window treatments in Minneapolis, consider plantation shutters. Polywood® composite materials fend off the sun's heat and those cold drafts better than other options to keep your living room comfortable for your family and guests.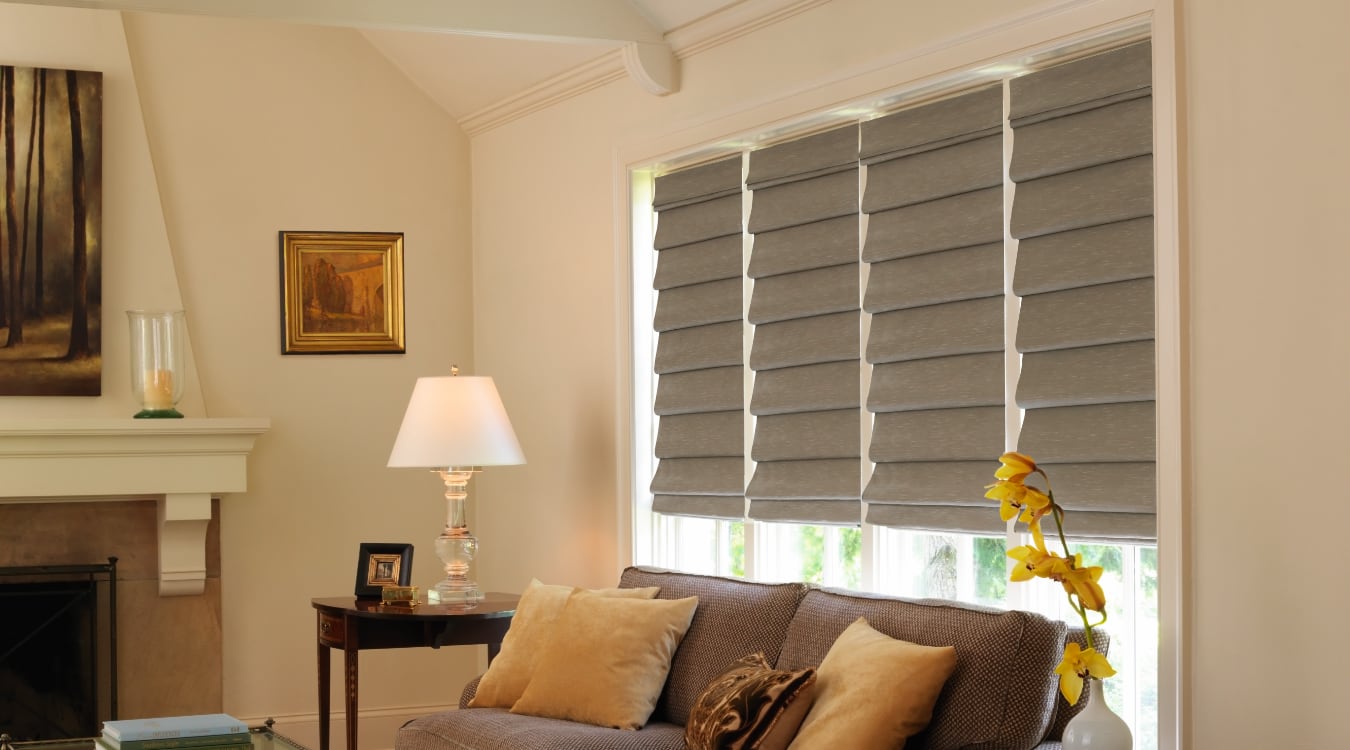 Roman Shades Offer Enhanced Style And Function
When integrating with a formal living room, you may decide to go with another type of window covering different from the rest of your house. Keep in mind, there's no need to trade functionality for appearance. You can get the best of both worlds with attractive Roman shades.
As you raise Roman shades, the the paneling slides up but without the inconvenience of holdbacks like drapery. Instead, Roman shades move easily with a cord or cordless mechanism. You can even install motorized shades so you don't have to interrupt a conversation to raise or lower the shades can adjust your shades with the touch of a button. You don't need to step away from a guest to go open the shade. You can find Roman shades in many colors, patterns, fabrics, and hardware finishes to get the exact look you want for your living room.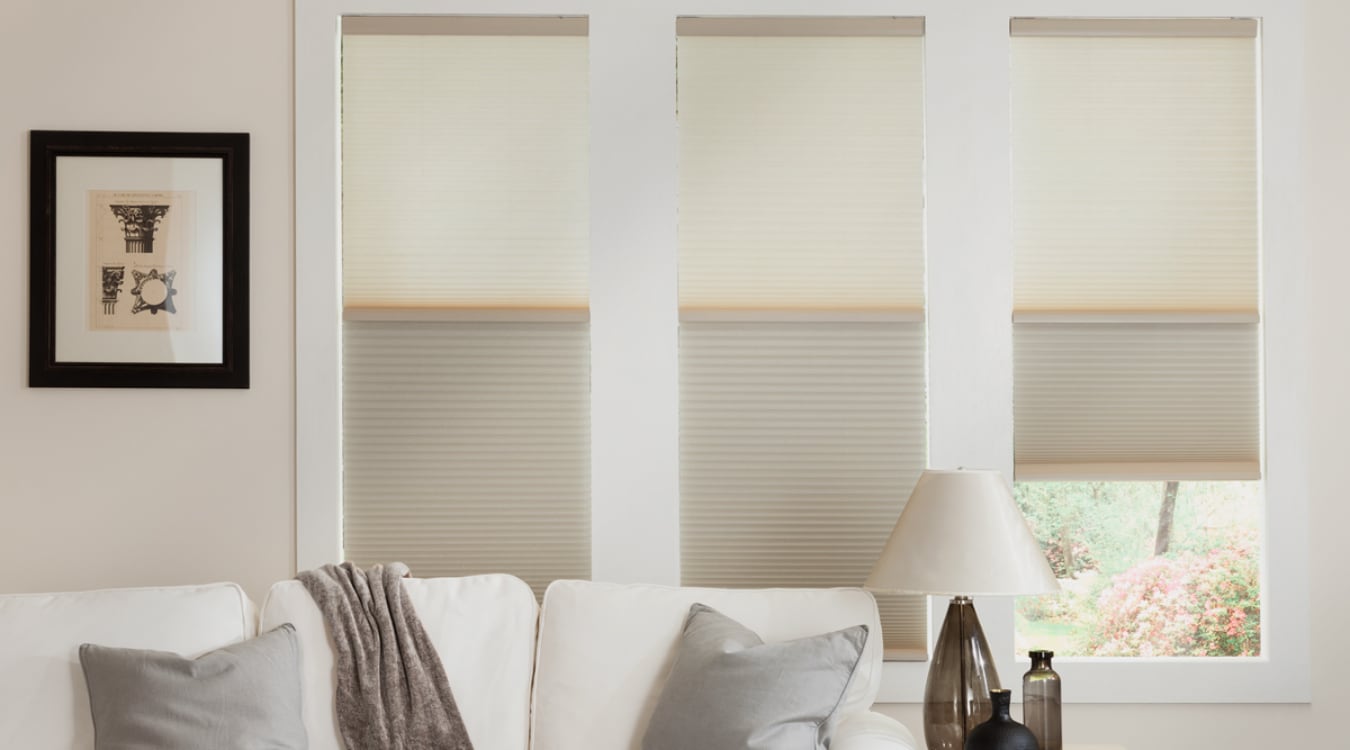 Cellular Shades Lower Energy Costs
Another preferred product for energy-efficient living room window treatments in Minneapolis are cellular shades. The unique design will trap exterior air to reduce drafts within your space. This important feature will keep you warmer when you're relaxing on a chilly winter afternoon on the living room couch and keep you cool in the summer when you're socializing with friends.
When considering cellular shades, don't worry about them being too drab for your space. They are available in a range of pleat sizes, textures, and colors to complement your design aesthetic. Your customization choices continue with opaque or see-through fabrics and everything in between to reach your preferred quantity of natural light and privacy. For added convenience and functionality, look for window shades that open at the top to allow light while remaining closed at the bottom for privacy.
Ready to Find The Best Living Room Window Treatments In Minneapolis? Discuss With The Specialists At Sunburst Shutters Minneapolis
Bring style and energy savings to your Minneapolis living room with quality window treatments from Sunburst Shutters Minneapolis. Our consultants will help you explore your options and offer tailored suggestions for your living room. To request a no-obligation, free appointment in the comfort of your home call us at 952-856-8130 or fill out the form below.