What To Put On Stair Windows In Minneapolis
Your stairwell windows in Minneapolis present a unique situation for even a seasoned home decorator. They're typically a different size and shape from your home's other windows, which makes them harder to cover. Usually, they're also in an awkward location, like above the stairs, almost to the ceiling. However, despite their tricky aspects, stair windows can make highlight your stairwell with the proper window treatments.
Whatever you have, you can make those Minneapolis stairwell windows work for your home! With our tips, your windows will pop - just like that brilliant stream of sunlight shining in.
Window Shades, Shutters, And Blinds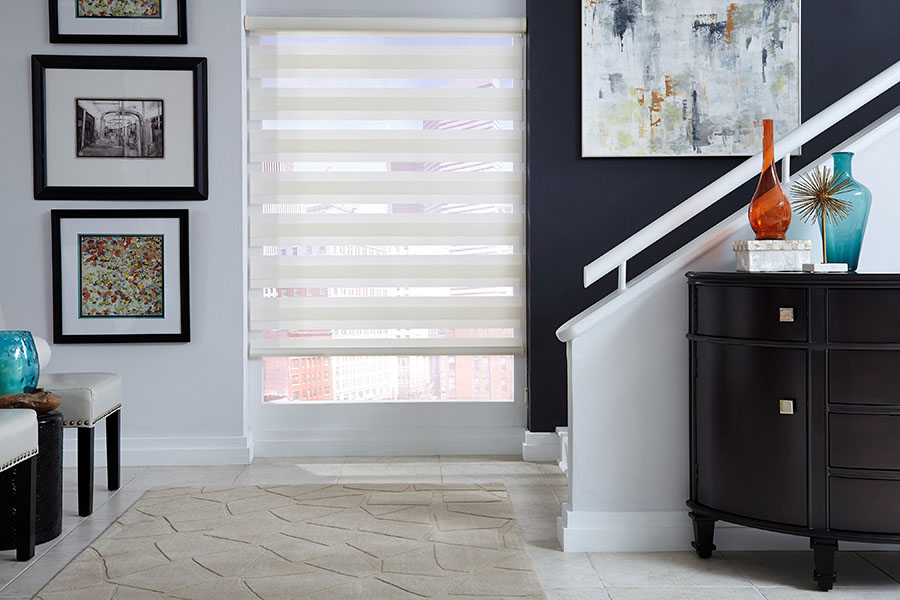 As you assess the space around your stairwell windows in Minneapolis, consider a few popular styles of window treatments:
Plantation shutters are manufactured of hardwood or highly durable wood-alternative material, providing unmatched UV protection, light blocking, and durability. Shutters are custom-built to fit any window shape. They are great for matching the wood of handrails or stairs.
Window shades are a sheet of fabric attached at the top of your window. The material can come in many textures and colors, making them ideal for matching your decor.
Premium wood or faux-wood window blinds look and work better than bargain metal blinds. You can tilt the slats to get the desired amount of light to illuminate your staircase without blinding people as they go up and down.
Consider The Type Of Stairs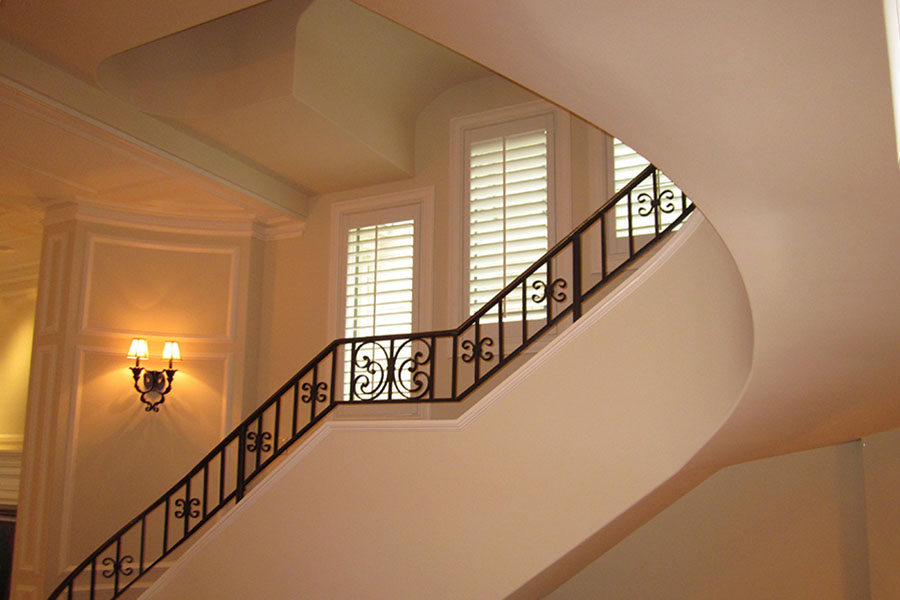 Not all stairs are built in the same fashion. It's vital to examine the stairs themselves before you get started on window treatments. Does the stairwell have multiple windows? Do the stairs turn or are they straight? Is the flooring wood, tile, or carpet? The answers to these questions may help you decide what you want to put on your windows.
If you have several stairwell windows in Minneapolis, look for a window treatment that will look nice on all of them - matching window treatments is important! A turn in your staircase will affect how the light illuminates things, so you probably want treatments like versatile Polywood® shutters that have lots of options for controlling light. If your stairwell has wooden panels, wood interior shutters that match the grain and color could look incredible.
The Decorations By Your Minneapolis Stair Windows Matter
The wide, blank wall space in your stairwell is prime real estate to show off and have fun. The way you decorate the area around your stair windows in Minneapolis may affect what window treatment you settle on.
A vibrantly patterned roller shade can bring more attention to a gallery wall of family photos. If you change the space for different times of year, a neutral interior shutter or window shade will coordinate with your decor for all seasons. If you keep plants on the window sill or hang from the railing, woven fiber shades will fit with the natural aesthetic.
Don't Let Placement Or Shape Deter You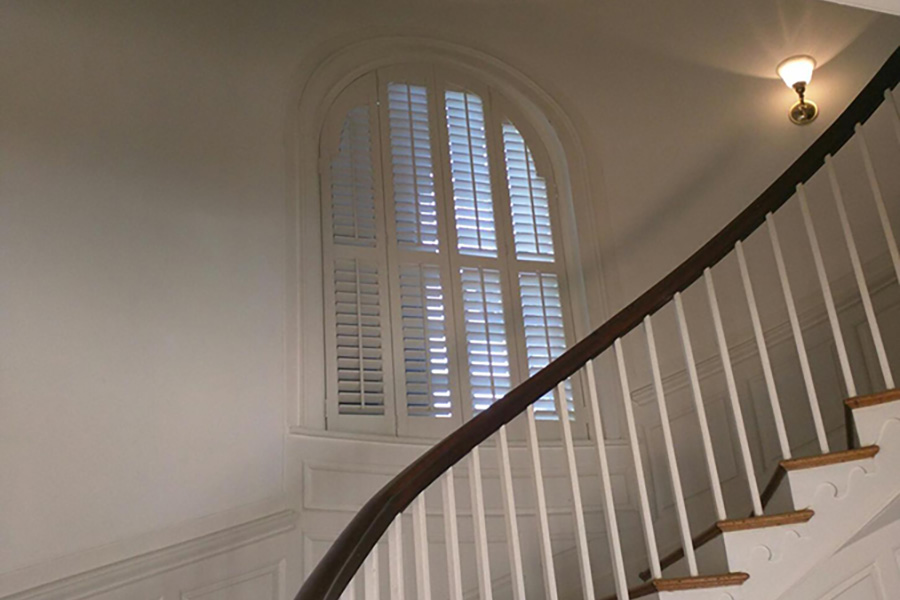 Is your stair window inan out of reach space? Get a motorized window shade with a remote control! If your stairwell window in Minneapolis is a different shape and size from the other windows throughout your home, get a custom-built interior shutter that highlights instead of hides its unique appearance. Don't let an atypical location or shape stop you from realizing your dream design.
Find The Top Window Treatments For Any Stairwell Window In Minneapolis With Sunburst Shutters Minneapolis
Now that you know how to dress your stair windows properly, buy the right window treatments from Sunburst Shutters Minneapolis. With full light management, timeless beauty, and ease of operation, your stairwell window treatments just became a highlight of your home! Start by calling 952-856-8130 or submit the form below to schedule a complimentary consultation.