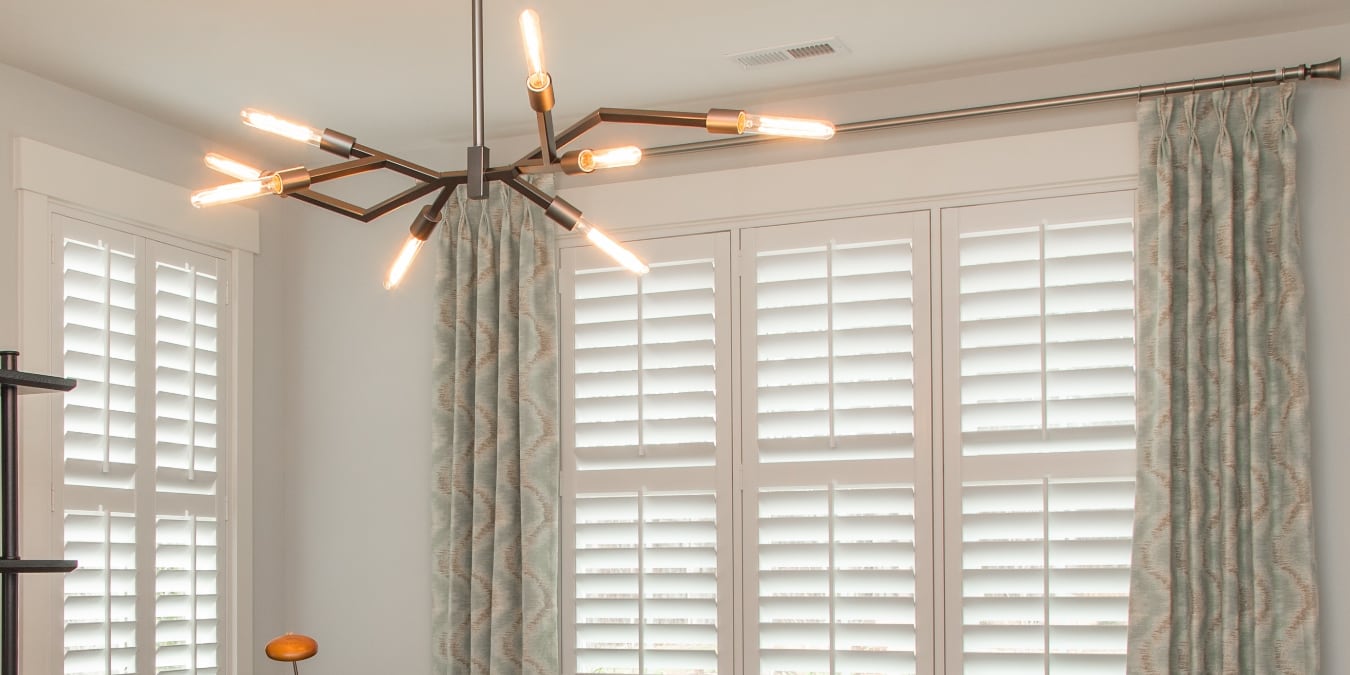 Home Office Window Treatments In Minneapolis That Work For You
If you find yourself working from home these days, you likely need help in optimizing your Minneapolis home office. A good place to start is your window treatments. Looking to see a side by side comparison of the variety of home office window treatments?
Here is a link to our window treatments chart, for window treatments perfect for your home office.
Products like plantation shutters and motorized window shades are popular home office window treatments for Minneapolis workers who want to have a distraction-free and comfortable work setting without compromising your home's unique design. They can even help you look more professional during online conferencing! Explore the ways you can employ these window treatments to your benefit.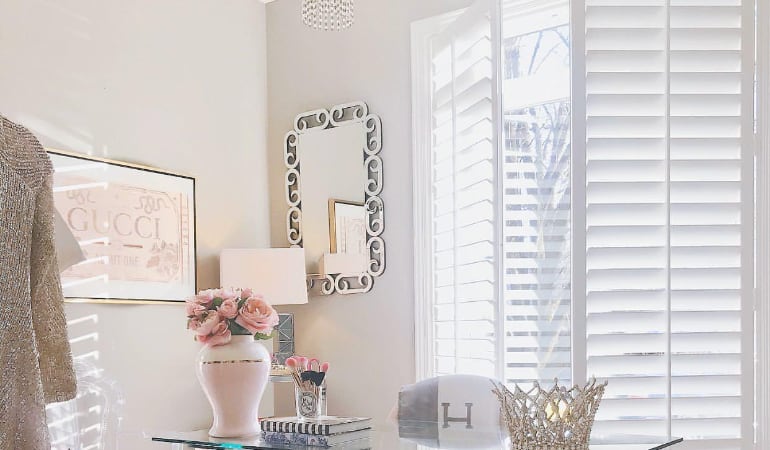 Plantation Shutters: Versatile Home Office Window Treatments In Minneapolis
Working remotely is often a challenge, so select home office window treatments in Minneapolis that will make the workday more pleasant. The time-tested craftsmanship of plantation shutters makes them a preferred option when you need to control your room's light and temperature.
An advantage of working from home is that you get to control the temperature. Even so, you don't want to increase your utility costs by using your furnace or AC too much. Insulating Polywood shutters are a smart alternative. During warmer months, close your Polywood shutters to cool your home office and keep the glare off your monitors. During colder months, that insulating ability keeps drafts at bay.
Want to save on electricity or hate poor lighting? Adjust the louvers on your shutters for filtered light that you can direct away from your monitor and into other areas that need it. Close the slats back up to block outside distractions such noises and passersby. Keep them shut to maintain privacy after the sun goes down when you stay up late working.
If you want a little more appeal in your home office, the fine edges of interior shutters create a dazzling architectural detail that gives a boost to even the plainest office window. They can be found in a wide array of adaptable colors as well. Whether you choose classic white shutters or a warm-toned hardwood shutter, your new home office window treatments will have you thrilled to be working from home!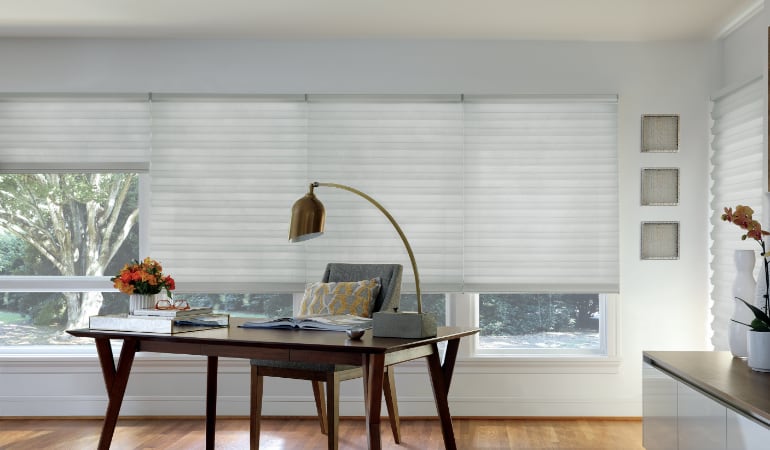 Motorized Window Shades Offer Style And Function for Minneapolis Remote Professionals
Like plantation shutters, various types of customizable shades deliver coverage and insulation for your home office. Light-suppressing blackout shades eliminate distracting glare. Eco-friendly cellular shades protect you from chilly drafts and keep warm air in. Transitional shades allow you to pick between soft, filtered sunlight or no light at all.
Window shades also come in various materials and colors to match your unique taste and fulfill your dream of a perfect home office. You may enjoy a distinctive option like Roman shades that look great behind you during conference calls or a practical product like roller shades to prevent disruptions.
When you figure out the style of window shade you want, explore the motorized option to enhance your workspace further. Motorized window treatments function with a remote controller instead of your hands. This provides an effortless method for managing the light in your home office.
If the sun changes position and a glare disturbs your focus, you can close your shades with a tap of the remote without getting up. If too much light is washing you out on a remote meeting, or you see that your work area looks too dark on screen, you can lower or raise your motorized shades right from your workstation without getting up. Your boss and colleagues will be impressed with your work from home set-up when you customize your home office window treatments in Minneapolis.
Are You Still Trying To Figure out Which Window Treatments You Should Get For Your Home Office? We've Compiled This Chart To Help You Consider All Of The Options.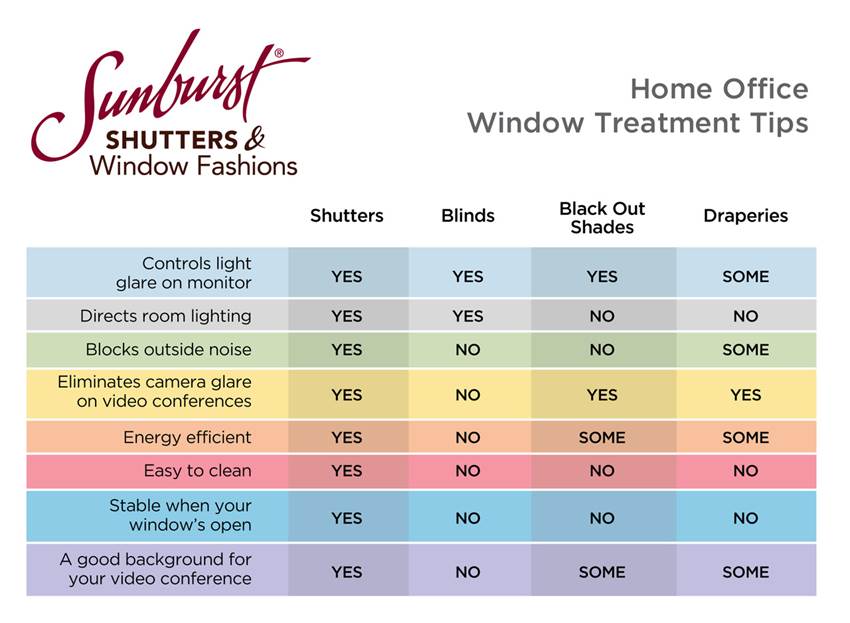 Get To Work In Your Minneapolis Home Office with Window Treatments From Sunburst Shutters
You will stay focused and productive when your window treatments limit distractions while keeping you comfortable. Talk to the window treatment experts at Sunburst to make the right choices for your home office. To request a free in-home consultation, contact us at 952-856-8130 or complete the form on this page.