Five Suggestions To Create An Amazing Media Room In Minneapolis
Today's home entertainment technology makes it easy to immerse your senses in movies, gaming, and television as you kick back in your own home. This is the rationale behind why residents of Minneapolis are inspired to create home media rooms. You might be wondering: What should you have to make an incredible home media room? From ideal window treatments to soundproofing, here are five suggestions for creating a media room in Minneapolis that everyone will enjoy.
#1 Control Outside Light With Louvered Shutters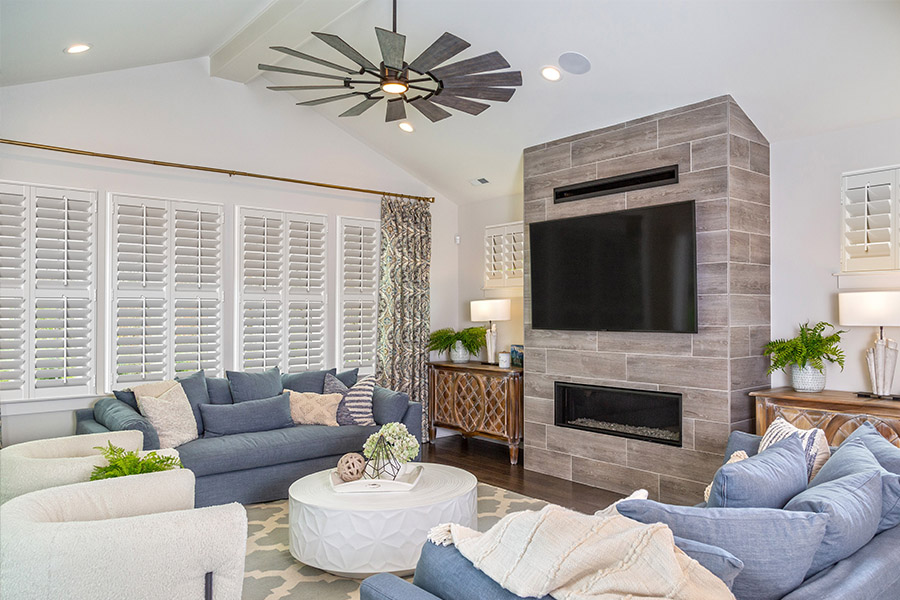 Nothing ruins your favorite show like glare on your TV. Dimmable lights help, but what what's best for exterior light? Install
plantation shutters as window treatments
in your media room in Minneapolis for superior control of sunlight. Interior shutters have a frame that surrounds your window's frame to block exterior light. They also have hinged panels with adjustable slats that slide together securely to give you near-total blackout. You may also move the slats up or down to redirect exterior light away from screens or your face without making your space seem like a black hole.
When you select Polywood® shutters, you'll enjoy a higher degree of insulating ability too. These synthetic shutters halt the sun's rays and cooler breezes to keep your media room at a comfortable temp. They are capable of preventing around 30 degrees of heat transfer, reducing your energy bills.
#2 Upgrade Your Media Room's Sound Quality With Some Straightforward Refurbishments
After you address the illumination in your Minneapolis media room, tackle the acoustics. Drywall is sufficient for walls in media rooms, but your basement's concrete ruins sound quality. The simplest solution to prevent reverberation in your lower level media room is by installing acoustic panels. In the event you need to resolve the sound issues in your media room, look for do-it-yourself sound dampening or deadening materials. You can then proceed with window treatments, like shutters, to control outside noise.
#3 Select The Right Equipment
The appropriate electronics will provide superb acoustics as well. First, select your surround sound setup. Many homeowners like devices with Wi-Fi capability as there's no need to worry about concealing wires.
Don't forget about getting an amazing TV. LCD and LED TVs have brilliant pictures, but 4k TVs often have greater contrast ratios and wider viewing angles. You might also choose a projector-screen combo for that movie theater experience in your media room. No matter what television you pick, place it high on the wall for improved viewing angles.
#4 Choose Cozy Furniture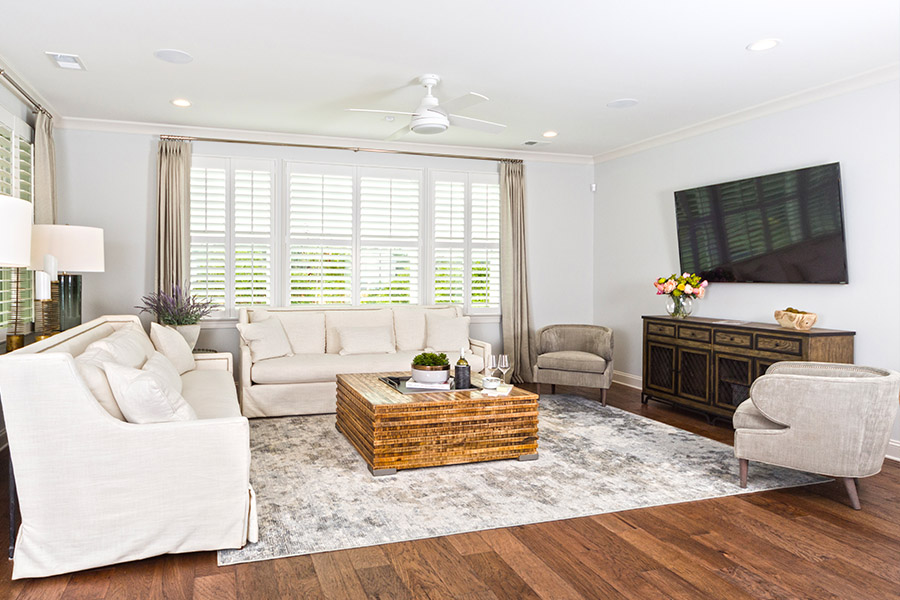 You won't be able to enjoy that new video game without a cozy place to sit. If your goal is home theater vibes, select theater chairs with reclining capability and built-in cup holders. For gamers, invest in a few well-designed gaming chairs. An oversized sectional is a good idea as well. And don't forget a few super-soft blankets and pillows to get ready for those nights of binge watching.
#5 Customize With Your Favorite Theme
Design in whatever fashion you desire when creating a media room in Minneapolis. Are you a fan of a specific movie franchise? Do you want to feel like you're sitting in an actual theater? Framed movie posters, an antique style popcorn trolley, and vivid colors can promote the intent of your media room.
For a more subtle feel, focus on a favorite color combination. Warmer shades with wood trim and matching Ovation® shutters will allow your media room to feel snug. You could also go open and inviting with more neutral colors and Polywood shutters.
Speak With Sunburst About Window Treatments For Your Media Room In Minneapolis
The specialists at Sunburst Shutters Minneapolis can help you pick the best window treatments for your media room. At your complimentary on-site consultation, we're happy to present how sample products look in your home before you make your ultimate choice. Request yours today by dialing 952-856-8130 or by completing the form on this page.