8 Ideas for Using Reclaimed Wood in Your Minneapolis Home
Minneapolis homeowners adore the appearance of reclaimed wood. It's a new way to upcycle weathered wood and gloriously showcase your personal style. Reclaimed wood products capture the eye whether you use it on a wall, your cabinets, or – yes! – your windows. Think you could use some suggestions on using reclaimed wood? We have 8 sensational ideas for you – every one of them applied to marvelous effect in Minneapolis homes.
1.Outfit Your Windows with Reclaimed Wood
Now here's a first you'll like: reclaimed wood is available to you – and none too soon! – as a window treatment. Sunburst Shutters now offers a plantation shutter made from reclaimed wood of the finest quality. As you'll surely discover, Sunburst is the sole company providing reclaimed wood shutters in the Minneapolis area. We took the reclaimed wood you like and used it to create a louvered shutter that's just as appealing for its functionality as it is for its beauty.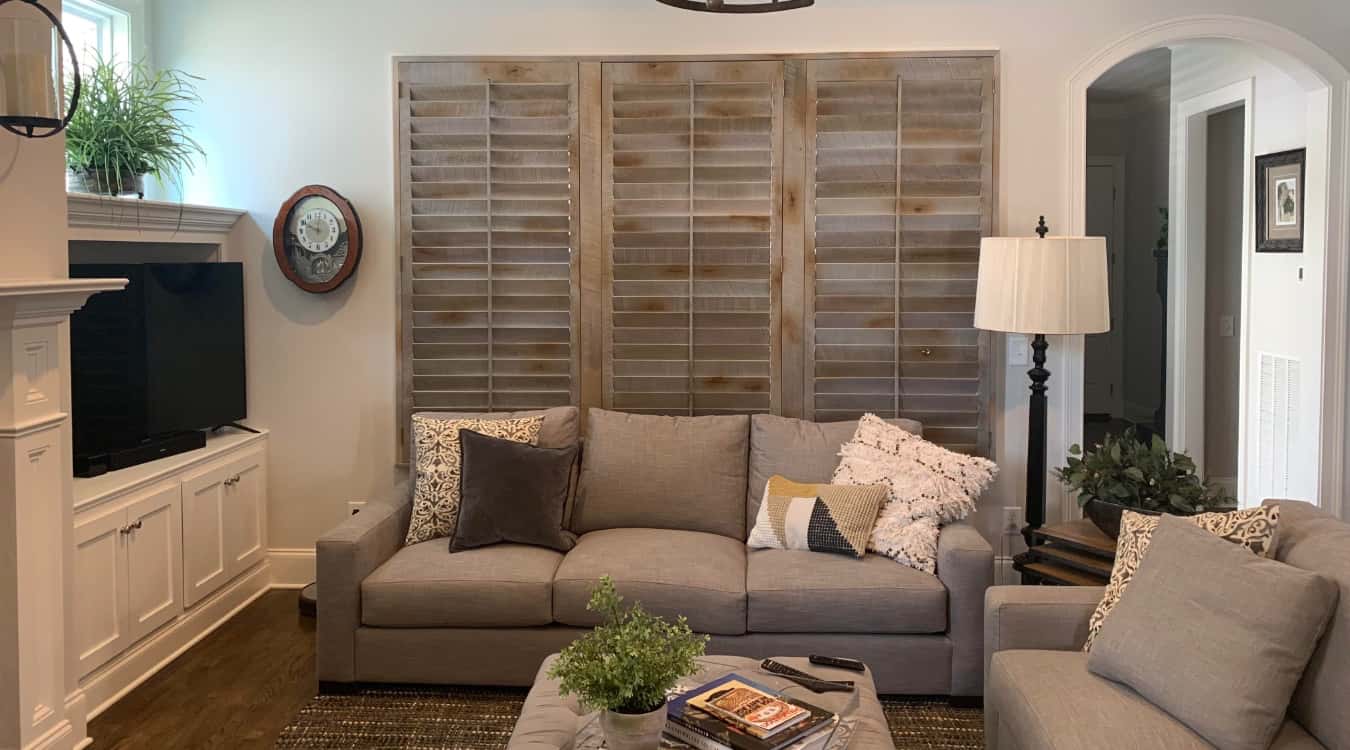 Reclaimed wood can be a window treatment like no other. You know you're ahead of the game, certainly, when your reclaimed wood shutters are a masterpiece in themselves. And Sunburst takes care that they are. You'll love their smooth, simple operation as well as their look. Tilt the louvers open to allow more light. And tilt them closed to bring out the weathered look of reclaimed wood on your window. Discover more about reclaimed wood for windows in Minneapolis
2. Use Reclaimed Wood on Walls
Bring the outside in with a reclaimed wood wall. Reclaimed wood paneling turns your wall into a quiet but compelling showpiece and imparts a homey ambiance to the room. It doesn't matter if you have a bookcase, fireplace, artwork, or TV you want to show off, a reclaimed wood wall will look beautiful behind it and give you the very effect you've sought.
3. Reclaimed Wood and Floors
Looking to redo a floor in your house? Lots of wood flooring can lend warmth to a room, but flooring of reclaimed wood has an unparalleled beauty borne of the time – often decades – the wood has been outside. Regardless of whether you love the outdoors or simply love the look of weathered wood, you'll go into your happy dance for sure when you see what a reclaimed wood floor can do to make your home feel new again.
4. Use Reclaimed Wood in Cabinets
Now's the time to give your kitchen cabinets a makeover with reclaimed wood. It's the natural way to improve the warmth and congeniality of your kitchen. Every panel of reclaimed wood relates a compelling tale – of many years [[spent in an old building, maybe, or as part of a barn or fence. And something of that narrative will endure in your reclaimed wood cabinets, coming to mind each time you and others admire them.
5. Reclaimed Wood for Tables
Tabletops fashioned out of reclaimed wood can add a contemporary, emphatically transcendent touch to your dining room or home office. Partner the reclaimed wood's natural tones and textures with your overall interior design for a harmonious look that satisfies your creative vision – as it leaves your guests in stunned admiration!
6. Reclaimed Wood and Bookcases
Apart from how passionate we may feel about them otherwise, books make great decorative pieces. Set a book or group of books on a coffee table or end table, on a bookshelf, or in a big bookcase, and they're certain to make a good impression. Their pleasing variety is both called out and brought together in bookcases of natural wood, too. And bookcases of reclaimed wood, because of their natural colors, knots, holes, scratches, and other markings, are a particularly attention-getting, one-of-a-kind décor item.
7. Pics "Pop" in Frames of Reclaimed Wood
The weathered, natural look of reclaimed wood is perfect for picture frames. It actually can enhance your favorite artwork and personal photos in a most exciting manner. It's worth noting, too, that frames of reclaimed wood can be put together in a plethora of styles, so they'll match almost any look you've established for your home.
8. Reclaimed Wood for a Headboard
Not much can upgrade the ambiance of a bedroom like a skillfully designed and constructed headboard. These days, when renovating, homeowners are just as likely to rig a headboard to the wall behind their bed as they are to fasten one directly to the bed itself. Whichever way works best for you, a headboard constructed of reclaimed wood planking can be especially stunning. It's natural tones and imperfections are easily adapted to a multiplicity of styles, from antique to modern. With reclaimed wood, you can set your artistic talent free to create the headboard you've dreamed about!
Let Reclaimed Wood Revitalize Your Design Sense
It's our hope that we've inspired you with these 8 ideas for using reclaimed wood. But we have even more ideas for you – ideas that pair exquisitely with the reclaimed wood shutters only we offer in Minneapolis. Our professionals would be delighted to show you samples of our shutters, answer your questions, and give you additional design ideas. Call us at 952-856-8130 to schedule your free in-home design consultation at your convenience!