The Differences Between Plantation Shutters, Window Blinds, And Window Shades In Minneapolis
Blinds, Shutters, and shades–oh my! The many distinct window treatments out there will often become a bit mind-boggling whenever you are looking to choose one for your Minneapolis interior. Knowing how to differentiate between each kind will aid you in determining which products will function and look best on the windows you need to cover. Here, we explain the benefits, cons, and ideal uses of plantation shutters, window blinds, and window shades in Minneapolis.
The Pros And Cons Of Louvered Shutters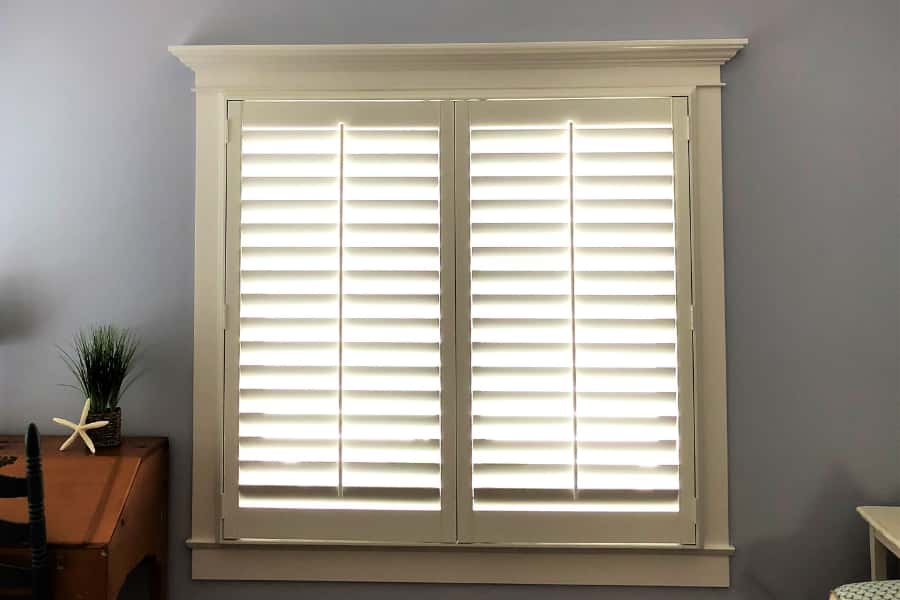 Interior shutters are constructed of real wood or faux wood and go into your property where they are permanently affixed to your window with a shutter frame built around the window frame. Movable panels within the frame swing open for full light and an unobstructed view or shut tightly to blanket your window for a dark, private interior. When the panels are closed, you are also able to turn the slats for partial light and adjust them to divert light where it needs to go.
The Pros
Interior shutters rise above other options thanks to their specialized design. Aside from looking quite different, they also supply several amazing advantages for Minneapolis properties:

Enhance your home with alluring architectural style

Find them in neutral colors to match your interior at the moment and down the road if you change your home's look

Offer complete privacy and nearly eliminates all light when shut

Open quickly for light and a sightline to your exterior

Accommodate any specialized window like circles and sunbursts

Shift sun glare with the louvers

Simple to clean off

Deliver superior energy efficiency

Becomes a permanent feature that adds to your Minneapolis home's value

A range of customizable possibilities to craft the style you want while meeting all of your needs
Along with these advantages, faux-wood Polywood® shutters feature their own noteworthy assets:
Unmatched resiliency with resistance to damage from cold, heat, moisture, and the sun's rays

Will never be impacted by bending, facturing, or chipping

Patented weather protection for exceptional efficiency and cost-savings
Actually, Polywood shutters will do anything you need a window treatment to accomplish, from upgrading your window's beauty to blocking cold drafts and destructive UV rays. They'll even operate and look just as great decades later as the day you first got them.
The Cons
Plantation shutters' lone disadvantage is that they can only be found in neutral tints. While their versatile hues match all sorts of decor, you'll be required to settle for window shades or blinds in Minneapolis if you must have window treatments with patterns or bold colors.
How To Incorporate Plantation Shutters
You can utilize louvered shutters on any window within your Minneapolis residence. Custom shutters fit any type, size, and shape of window without sacrificing functionality. Put them on half-circle, rake angle, and sliding glass door windows just as simply as regular rectangular windows.
You may also position Polywood shutters in any space. Pick them for their resilience and superior efficiency in damp bathrooms, cold attic dormers, or sun-filled south-facing rooms. Shutters even work great in high-traffic areas and children's rooms since they don't use cords that present a safety hazard.
The Pros And Cons Of Window Shades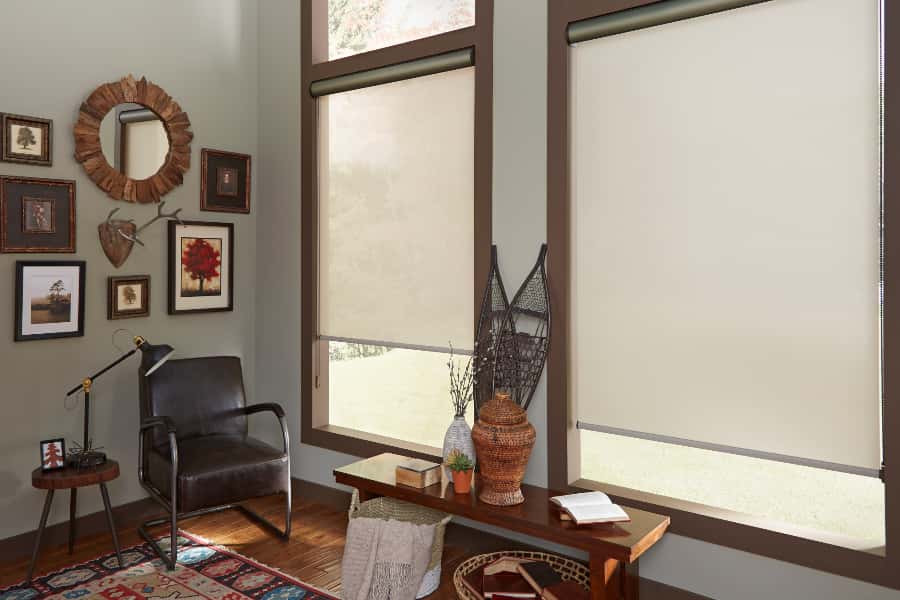 Window shades come in many differing styles, although, in general, all consist of a layer of fabric mounted above your window. You usually pull the fabric down or up to shield and unshield your window through a built-in pull bar or cord, although you are able to discover motorized functionality as well.
Window shades don't use slats to provide partial sunlight and privacy, but more transparent or less tightly woven fiber shades can permit light into lower-lit spaces while obscuring views into your interior. Or you might use top-down/bottom-up shades that give you the chance to open up the upper part of your window for light while preserving your privacy at the bottom.
The Pros
Minneapolis residents prefer window shades because they are available in a range of colors, materials, and styles. You'll find shades with standard colors and vivid tints, one color or eye-catching patterns, transparent or blackout opacities, pleated fabric or natural fibers, and numerous different choices. If you're looking for a stylish focal point when redecorating an interior, window shades in the ideal color or fabric can boost your decor and cover your windows.
Distinct window shade styles have their own benefits as well. Roller shades have a restrained appearance. Cellular shades are energy efficient. Tumble shades are smart choices for glass doors. And sheer shades give you an agreeable combination of filtered light and privacy.
The Cons
Window shades don't offer the resiliency of firm window coverings and can be difficult to clean. Their soft materials will in time fade from the sun or can rip, grow mold, or show stains. You can plan on replacing window shades every few years as they get worn down or you update your decor.
Window shades also offer less versatility in balancing light and privacy than louvered shutters. Even drawing them up part-way means you lose your privacy on half of the window and you're not able to change how the sunlight streams in in the open section. And many window shades will display shadows when your interior is illuminated during the night. And square window shades in Minneapolis make you to choose between hiding a non-traditional window's distinctive size or leaving the window bare all the time.
How To Utilize Window Shades
Numerous Minneapolis residents choose window shades when they want bold or patterned window products to match their interior. They are perfect for low-traffic rooms where they can avoid damage from steady engagement.
You are also able to utilize some types of window shades for their specific purposes. Select cellular shades to help block outside drafts. Slim roller shades fit in spaces where you need to avoid a bulky window treatment. Blackout shades stop sunlight for better sleep. Woven fiber shades incorporate an element of nature to your property. And of course, custom shades will unquestionably look and work better on your windows than off-the-shelf options.
The Pros And Cons Of Window Blinds
Window blinds have a row of long slats constructed with a firm material that you bring down over your windows to cover them. Blinds function with pull cords or cordless functionality. Along with concealing windows with blinds, you are also able to tilt the slats with a rod for more command over natural light.
The Pros
The advantages of window blinds are dependent on what they're made of. By design, all blinds shield windows to block exterior light and views within your Minneapolis home, but their material and quality play a big role how effectively they do this. You may observe light and shadows with low-grade vinyl blinds. Vinyl and aluminum blinds also bend and break easily, leaving unattractive spaces that let in sunlight. For these blinds, their low price and short lifespan make them suitable primarily as short-term window coverings.
More resilient real wood and faux-wood blinds have sturdier slats that cover windows more completely. You won't have to worry about seeing through them, and they don't fall apart quickly. These materials, mixed with the pleasant horizontal lines of the slats, provide a more elegant appearance as well. Superior real wood and faux-wood blinds are available in adaptable neutral colors that go with the decor of any area.
Blinds allow you to direct the amount of light that comes through your windows. You may draw them up for an unrestricted view and complete sunshine or close them for privacy and darkness. When the blinds are closed, you may also rotate the slats for a limited view and some sunlight.
The Cons
Wood and faux-wood blinds look similar to plantation shutters but aren't nearly as durable. The cords that hold the slats together can unravel over time, and wood slats could become misshapen and splinter from an abundance of moisture or extreme temperature fluctuations. Blinds also come with lots of parts that might make them tricky to clean, and corded blinds might stick or get tangled when you make an effort to manipulate them.
Even though custom blinds will accommodate your windows just right, they don't have the complete protection around the perimeter that shutters offer as they aren't built into a frame. You'll also discover that both window blinds and shades in Minneapolis are prone to sway and smack your window if bumped or caught in a breeze. This movement lets people see in and allows sunlight.
How To Utilize Window Blinds
Premium blinds look great in any area for traditionally sized windows. Be sure to choose water-repellent faux-wood blinds in high-humidity areas like bathrooms and kitchens. And motorized or cordless blinds are safer options when you have kids or four-legged friends.
Sunburst Has It All From Louvered Shutters To Window Blinds And Shades In Minneapolis
Want to know more about the the variances between plantation shutters, window blinds, and window shades in Minneapolis? Sunburst Shutters Minneapolis boasts the most comprehensive lineup of exceptional window treatments in town and can answer whatever questions you have. We offer free in-home consultations to demonstrate our products and show you which window treatments look best in your residence. Arrange yours by calling 952-856-8130 or filling out the form below.